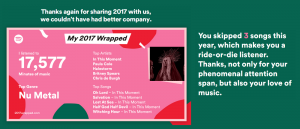 My Spotify Top 100 Songs in 2017 List
My "The Ones That Got Away" in 2017 List
Stats from my Spotify Top Songs in 2017
I spent 17577 minutes listening to 846 different songs by 298 different artists in 21 genres and only skipped 3 songs all year.
2018 goal: Be self aware
Top artist: In This Moment
"My" song: Oh Lord by In This Moment
Top genre: Nu Metal
Top Artists:
In This Moment
Paula Cole
Halestorm
Britney Spears
Chris de Burgh
Top Songs:
Oh Lord
Salvation
Lost At Sea
Half God Half Devil
Witching Hour
Top Genres:
Nu Metal
Alternative Metal
Post-grunge
Rap Metal
New Wave Pop
Below the cut is a listing from a swap I did over on Swap-Bot about my top 100 tracks of 2017 per Spotify.
What are the top 15 songs in you Spotify "Your Top Songs of 2017" playlist?
01. In This Moment – Oh Lord
02. In This Moment – Roots
03. Lindsey Stirling – Shatter Me Featuring Lzzy Hale
04. Halestorm – I Am The Fire
05. In This Moment – Salvation
06. t.A.T.u. – All About Us
07. Glee Cast – Home (Glee Cast Version featuring Kristin Chenoweth)
08. Halestorm – I Want You [She's So Heavy]
09. Sara Bareilles – Islands
10. In This Moment – Lost At Sea
11. Chumbawumba – Mary, Mary
12. Ani DiFranco – Superhero
13. Sara Bareilles – She Used To Be Mine
14. Stevie Nicks – Has Anyone Ever Written Anything For You
15. In This Moment – Half God Half Devil
Choose at least 5 other songs in the list that you would like to share. State the ranking of the song if possible.
16. Blue Man Group – Up To The Roof [feat. Tracy Bonham]
25. P!nk – Ave Mary A
29. Bring Me The Horizon – True Friends
30. Michael W. Smith – Raging Sea
32. Lady Gaga – Judas
37. Disturbed – The Sound Of Silence
53. Tracy Bonham – Sharks Can't Sleep
59. Mike & The Mechanics – Are You Ready
65. Sia – California Dreamin'
67. Voidoid – Wonder Woman 2017 Theme – Original Motion Picture Soundtrack
84. Mike & The Mechanics – The Letter
99. The Butchies – The Galaxy Is Gay
For the 20+ songs in the above questions , choose at least 10 songs and tell us why might they be in your playlist? Were there any special memories attached to the songs?
Okay, I'm doing this section a little bit differently. Please bear with me….
Tracks 1, 2, 5, 10, & 15 :: I can easily explain all five tracks by In This Moment being on this list by saying that I am utterly smitten with that band's music.  I have listened to all of their music so much over the last year, it's not even funny, especially their most recent album, Ritual.  And specifically Tracks 1, 2, 5, & 15 come from that newest album.
Tracks 1, 3, 4, 6, 7, 8, 9, 11, 12, 13, & 14 :: These 11 tracks are in this list because they're part of a fanmix I created for the EvilSwanQueen triad from Once Upon a Time over the summer.  I listened to these tracks constantly while creating the fanmix, so I'm not surprised that they made my top 100 list.
Tracks 16 & 53 are quite probably my favorite Tracy Bonham songs ever.  I would get into moods where I just couldn't stop listening to both of them, especially Track 16.  It touches me on several levels.
Track 25 is my favorite P!nk song, especially the live version from the Funhouse tour DVD/CD.  It's something that really hits me on a visceral level.
Track 29 is a song that really hits me and my best bish K.  We are incredibly blunt SagiBitches and this song just totally hits us perfectly.
Track 30 is a new favorite Michael W. Smith song that I found this past year.  It's a personal mantra of sorts and also fits a number of the characters I write for, so I ended up listening to it a lot for inspiration.
Track 32 is my favorite Lady Gaga song.  I have a long history of obsession with Judas Iscariot, and this song just gives me all sorts of lovely vibes in that vein.  Plus?  It's got a great beat!
Tracks 37 &  65 honestly blew me away.  I love both of the original songs, but find that I actually dig these covers even more.  And it's a lot for me to admit that.
Tracks 59 & 84 came from the newest album by Mike & The Mechanics.  Both ended up being my favorites from the album pretty quickly on.
Track 67 is here because I completely fell in love with the theme to Wonder Woman.  Okay, let's just be honest and say that I loved the movie a lot in general.  LOL
Overall, how do you feel about your playlist this year?
I'm actually laughing at my list and seeing just now obsessive I can get with music at times.  I mean, I already knew that about myself, but I rather liked seeing the reality to the theory.  I mostly listen to playlists I create or full albums on Spotify, and that shows in my top 100 songs.  I don't think there was a single song on this list that I didn't expect to be there.  LOL